Epicom has built its hosting platform to offer SugarCRM users a faster and more secure CRM experience. Our elite hosting platform has the storage and speed your business demands with dedicated or virtual servers at the most reliable and secure datacenters available.
This service is especially important for clients with high requirements for performance, security, availability, or offsite data backup.
It makes sense to use Epicom hosting because:
Our hosting solution is so fast it will save you money by increasing your productivity. See how much money you could be saving by CLICKING HERE to use our savings calculator.
CRM is all we do, and we do it very well.
We tailor a hosting environment to each individual customer, so that performance and security are optimized.
We host many systems, so we can achieve economies of scale.
We monitor and maintain your CRM system so you don't have to worry about it.
We fully manage the server, firewall, and application in addition to all software installed on your CRM system including PHP, Apache and MYSQL.
We include off-site backup for all of our hosted customers.
We offer HIPAA and PCI compliant solutions.
PERFORMANCE
Epicom's hosting platform was designed to provide the optimal performance for any size database and company. We've been hosting SugarCRM systems for more than seven years and have continuously improved our platform to run faster and scale as your usage fluctuates and your database size grows. Also, each of our standard packages uses solid-state disk (SSD) drives, which read and write data faster than standard hard disk drives (HDD).
RELIABILITY
Epicom's backup ideology is designed to protect beyond the failure of the physical server itself. We have built a strong hosting platform to safeguard our client's data using redundant physical firewall protection and VMware high availability servers that significantly reduce the possibility of any down time. In addition to daily, weekly, and off-site backups, we run our own off-site backup server in a different city from our main servers.
SECURITY
Epicom has dedicated hardware at its data centers, which provide more control, and its hosting platform uses virtual private server (VPS) web hosting. Utilizing VPS provides an additional layer of protection by housing each customer's data in its own private environment.
We stress the importance of secure hosting to our customers and do everything we can to provide a safe environment for their data and Sugar instance. Therefore, if clients choose to host their own SugarCRM instance in-house, Epicom will provide off-site backup for $150 per month plus $1/GB/Month.
AUTHENTICATION SOLUTION
Epicom partners with Easy Solutions to provide an added layer of security for its hosted customers. Easy Solutions' DetectID® Cloud is a strong multi-factor authentication solution that strengthens the way users are authenticated into SugarCRM to prevent theft of sensitive customer information or unauthorized use of the application. Easy Solutions is an add on option for Epicom's standard hosting and is included in Epicom's PCI and HIPAA compliant packages.
Small
Medium
Large
Grand
Price*
$250
$425
$625
Call for Quote


(512) 481-9000

CRM Users
1 to 15
16 to 40
41 to 75
Data Storage
30GB
60GB
90GB
Easy Solutions Add On
$50/month**
$100/month**
$200/month**
* Prices in the above table represent the cost per month. Prices do not include applicable sales tax or SugarCRM licenses.
** Price listed for Easy Solutions is based on the recommended number of users for the server size. For each SugarCRM user over the recommended amount, Easy Solutions is $4/users
NOT SURE WHAT SERVER SIZE YOU NEED?
Click here to access our online hosting size calculator. Simply enter in the number of records you have in your current system, and our calculator will automatically recommend the appropriate server size for Epicom's SugarCRM hosting platform.
HIPAA COMPLIANT HOSTING
Epicom's HIPAA compliance-ready hosting for SugarCRM helps you simplify the complexity of HIPAA's technical requirements. We handle all the managed hosting services you need, to make achieving HIPAA requirements more affordable and quick to implement. Email sales@epicom.com for pricing.
PCI COMPLIANT HOSTING
Epicom's PCI compliance-ready hosting for SugarCRM follows and exceeds the most current standards set to provide companies peace of mind that their data is secure and protected. Email sales@epicom.com for pricing and additional information.
WANT A FASTER, MORE SECURE CRM EXPERIENCE?
Epicom provides customers with the highest possible application performance, security, and flexibility, while allowing them to scale and grow. For a detailed quote or to learn more about Epicom's SugarCRM hosting platform, email sales@epicom.com, or click here to send us a message.
All Hosting Packages Include:
Support for SugarCRM Community, Professional, Corporate, Enterprise, and Ultimate Editions
Daily and Weekly Backup
Off-site Backup
Virtual Private Server (VPS)
VMware High Availability
Complete Server Monitoring and Application Management
Redundant Physical Firewall Protection
Domain Name Registration
Advanced SSL Security
Epicom Hosting vs. OnDemand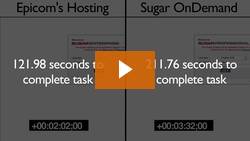 ---
---